Thank you for visiting my Special Needs Photography page.  Let me know if I can answer any questions by shooting me a quick message.
The Autism Photographer
Special Needs Photography Orlando
Non-Judgement zone photo sessions in a sensory-friendly environment
Contact us TODAY!
You can take a breath and relax –Special Needs Photography really exists!
Special Needs Photography Specialist
We have the patience and understanding that will make your session non-invasive and fun!  Having a child that is on the spectrum has given us the tools to rise above any challenges that might arise and capture moments that no one else could. Special Needs Photography at it's best!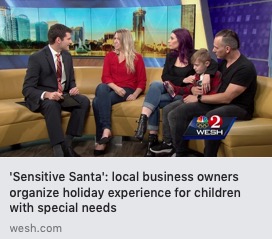 WESH News article on our annual Sensitive Santa event There are still plenty of stigmas that surround children with special needs.
Though people are becoming more accepting of differences and disabilities every day, we still seem to have a ways to go until every individual is accepted as the way they were born.
One of the most exemplary outlets for praise and pride is portrait photography.
When families get portraits done of their children, they are showcasing their beauty and their worth in photos that can be shared and celebrated.
These special portrait sessions should be available for every type of family, including those with loved ones who have special needs.
Family Portraits
Serving families of children with special needs
Special Needs
Trained photographer that capture moments of special children through beautiful photography
School Pictures
Available for school picture sessions at any special needs facility
Holiday Pictures
You can finally send out holiday cards!
Families with special needs children and loved ones want to showcase their stories as well as show how beautiful they are.
We are here to provide Photography for all of your needs.